Posted by The Killdares on May 20, 2013
Hello Chicago!  We're lookin' forward to the 2013 Gaelic Park Irish Festival this Memorial Day weekend May 25-26.  We had our debut performance at this event last year, and are thrilled to be returning as a featured headliner this year.  We will be doing 2 shows on the "Celtic Stage."  Saturday, May 25 at 9:30PM, follwed by Sunday May 26 at 7:30PM just before Gaelic Storm. Get tickets here.
Posted by The Killdares on May 10, 2013
Today we are happy to announce that we have entered an endorsement deal with Gator Cases.  From instrument cases, to rackmount systems, to heavy duty flight-ready options…Gator cases offer some of the best solutions.  Read all about them here.  With this opportunity, we join an awesome list of artists that includes such bands as Grace Potter & The Nocturnals, Lady Antebellum, and Fleetwood Mac.  We're proud to support Gator while out on tour.  Thanks Gator!
Posted by The Killdares on Apr 30, 2013
This week we return to Arlington, TX to headline the Texas Scottish Festival & Highland Games.  We will be playing Friday and Saturday only this year, but will be doing 3 shows.
FRIDAY May 3rd – 9:00PM
SATURDAY May 4th – 4:00PM  +  9:30PM
Tickets available via the festival website or at the gate.
Posted by The Killdares on Mar 4, 2013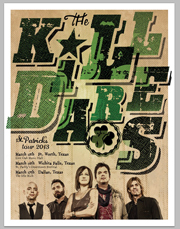 March Madness is under way.  And to celebrate the Green Season this year, we will be raising our pints to St. Patrick over a 3-day Texas Tour.  Come see us at the following shows:
-Friday, March 15th – The Live Oak Music Hall (Ft. Worth, TX)*
*First 200 people through the door get a FREE limited edition tour poster of the band!!!
-Saturday, March 16th – Downtown Street Festival (Wichita Falls, TX)
-Sunday, March 17th – The Idle Rich Street Party (Dallas, TX) – returning for the 8th Year in a row!
Details, ticket information here.
Posted by The Killdares on Jan 23, 2013
Happy New Year everyone!  Join us at our first show of the year on Saturday, February 23rd as we make our way back to The Kessler Theater.  This is one of the best listening rooms in Dallas, and a great place to catch a more intimate show with the band.  We love playing here, and we promise…you won't be disappointed.  This is an ALL AGES SHOW.  Tickets On Sale Now via the venue website directly.  Limited seating.  So get yours now.
Posted by The Killdares on Dec 11, 2012
Merry Christmas everyone!  'Tis the season to be rockin'.  And what better way to say Happy Holidays, than by sportin' some of the latest KD swag!  Just in time for the holidays, we have stocked our official Online Store with BRAND NEW KD Merch.  In addition to our music (of course), we have brand new T-shirts, Hats, Ladies apparel, and Accessories.  Or if you're having trouble deciding, we also have some great music/wearable Bundle Pack combo deals.  And if that ain't enough…we have some super great Sale Items as well.  Some deals as low as 20-50% off!  Great gifts and stocking stuffers for the whole family!

Order by Sunday Dec. 16th for regular USPS first class delivery to arrive for Christmas
Order via PRIORITY SERVICE (2-3 day) by 9am CST Tuesday Dec. 18th to arrive for Christmas. *
Order via OVERNIGHT by 12pm CST Thursday Dec. 20th to arrive for Christmas.
*USPS suggests the above time frames but does not guarantee those delivery times. Only Overnight delivery is guaranteed.